How to Achieve Superior Growth Performance in Your Financial Services Business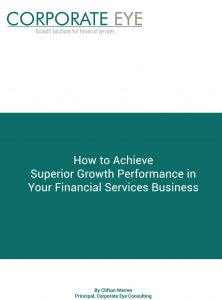 In this free report you'll discover:
The seven marketing tactics top producers perform to generate a steady stream of referrals and new business opportunities.
The eleven sales capabilities that all top producers process.
The ten methods top performing firms use to achieve effective goal setting.
The seven common things that top performing firms do to drive growth.
The three profit zones top firms actively manage to produce superior results.